Home ... Lazarshopping.com
The Premier NYC Sample Sale Source since 1986
Lists every sale in New York, the only site you'll ever need.
Over 130 Sample Sales in May and the number keeps growing!
Sales Added Today ... Bauble Bar Friends & Family Sale • Joie, Current/Elliot and Equipment • John Paul Ataker •Latico • Lela Rose • Olcay Gulsen • Pronovias Barcelona Cocktail
Sales Added Yesterday ... Adrienne Landau Home • Cheap Monday • Circle Showroom • Derelicte Showroom • Desigual • Lillian August • Lisa Perry • Nessen Lighting • Pono by Joan Goodman •Pronovias Barcelona Cocktail • Nessen Lighting
Information about all sales ... posted to our site every hour.
Free Weekly Sales Alert Emails

...

Sign Up
Email us Info about Your Sale ... Click Here
This Week's New York Sample Sales ...

Click

Here
Featured Photo:
Ter et Bantine Sample Sale
Updated Friday, May 17, 2013
---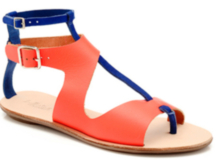 44 Sales This Week Including...
Sample Sales … May 13-19
New this Week: Adrienne Landau Home • Aloha Rag & More • Bing Bang • Broadway Panhandler Sale • Buccellati • Cheap Monday • Christian Louboutin • Christian Siriano •Christopher Fischer Cashmere •Derelicte Showroom • Faliero Sarti • Gant • Hache •John Paul Ataker • Joseph Abboud • LELO • Lenny Niemeyer • Lillian August • Lisa Perry • Loeffler Randall • LOL Kids • Lulu Frost • Multi-Showroom Kids • Ovadia & Sons • Pronovias Barcelona Cocktail • Reformation • Rocksmith • Rubin & Chapelle • Sleeping Partners • Ter et Bantine • The Limited • The News Showroom • Theory and Theyskens Theory • Theory Mens • Theory • Tuleste • Want Agency Showroom
Ongoing: • Comme des Garcons • Devon Shops Floor • European Classic - Emilio Visconti • Paula Varsalona • Showroom Seven • Syn Jeans
---
Elysa Lazar, founder of Lazar Shopping, has been crowned "The World's Smartest Shopper" and a regular contributor on Oprah, The Today Show, Good Morning America, CBS Morning News, CNN. Featured in hundreds publications: The New York Times,The Wall Street Journal, People, Time.
---
In our continuing effort to inform fellow Smart Shoppers, look for Daily Shopping Tips on this page. We'll pass on 30 years of our wisdom to you on what to avoid and what to look for at a good sale.
What is a Sale?
What is a "Sample & Stock Sale"
Designers and manufacturers will on occassion open their doors the public. During these times, you can go directly to the source and cut out the retailer. Most designers have sales two or three times a year, although there are certain showrooms that are open to the public all the time. The prices at most of these sales are at wholesale - usually 50% off the full retail price of clothing. and anywhere from 50% to 70% off for jewelry and accessories. these sales start after shipments have been made to stores. so you can find Spring merchandise as early as February and Winter goods in August.
What is a "Retail Sale"
Did you ever walk into your favorite store to discover that a great sale started last week and you have missed the first dibs. We let you know the very first day that a store will be starting a special sale.
What is a "Discount Store"
A store where merchandise is marked down every day. Discounts vary from 20% to up to 80% depending on the merchandise, time of year and special promotions. Discount stores will purchase merchandise directly from the designer or manufacturer or from stores at the end of their selling season.
What is a "Factory Outlet"
There are two types of outlets The first is owned and operated by a specific designer. The second is similar to a discount store in that they carry a variety of different designers and brands, but the store is located at a factory outlet center. Discounts generally start at around 30% off. Factory Outlet stores
What is a "Charity Sale"
Charities will organize sales where all types of merchandise is sold.
What is a "Consignment Shop"
Sell "slightly used" clothing and accessories at discounts of at least 50% the original selling price.
---
Associated Press ... "What Martha Stewart is to home furnishings, Elysa Lazar may one day be to discount shopping. This New Yorker doesn't have the same notoriety as the queen of 1990's living, but Lazar reigns in her own enclave as the nation's goddess of bargain-hunting.
From television appearances - Oprah, Regis & Kathy Lee, CNBC - to her books and newletters, Lazar spreads the word about where to find the best bets on everything from china set to contact lenses to evening gowns."
---
Reporting on the best luxury New York City sample sales in the market since 1986. Lazar Shopping started as a monthly guide to sample sales, The S&B Report, and made is premier on the world wide web in 1999. We continue to inform bargain hunters of unadvertised designer sales in New York City. The first of its kind and the industry's best-known and longest- running information source.
Elysa Lazar has appeared on over 100 television programs ...